Oriental Furniture Warehouse sells fine porcelain bowls, vases and umbrella stands. We at Oriental Furniture hope you will take good care of the porcelain you buy from us.
How to clean your porcelain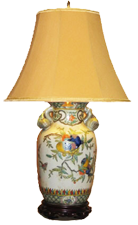 Wash your Oriental porcelain pieces by hand. Please don't place your porcelain pieces in the dishwasher. Just hand wash using a mild dishwashing soap and a soft cloth or sponge. Don't use soaps containing lemon or bleach. They can damage the glaze.
How to remove stains from your porcelain
First of all, many stains can be prevented by prompt washing of your porcelain piece. If you do get a stain, soak the piece in denture cleanser and scrub the stain with a soft toothbrush.
Repairing your porcelain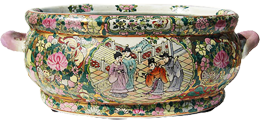 Use a food safe-two part epoxy glue to repair broken porcelain. There are specialized epoxy glue kits designed for repairing china that you can buy at your hardware store.
If it's a piece you particularly prize, consider going to an antique dealer or someone who specializes in the repair of porcelain and china. They will be able to repair it without any seams or cracks showing.

For more information, see Lakeside Pottery's tutorial on how to repair ceramic.